Interview from the Miss Universe website.
1. What is your proudest personal accomplishment (other than representing your country in this pageant)?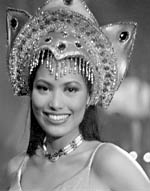 I have been living independently from my parents for several years now. God has been very kind to continue to bless me with many things, including upkeep of my apartment and financial support for my brother, whom I send to college. Although I grew out of poverty, I am proud to say that did not get in the way of proper breeding, top-quality education and pushing through with my art.
2. What are your interests and what do you enjoy doing the most?
My interests are primarily in the arts, particularly in the visual arts. My love for it dates as far back as age five. I remember my father teaching me perspective highlights and casting of shadows in drawing at that age. I haven't lost my touch. As a matter of fact, my skill just keeps on improving.
3. What is your career ambition? What are you doing or plan on doing to accomplish that goal?
I want to become a famous artist in the field of Visual Arts, where my training has deep roots. I believe I have what it takes to become one. I hope to put on an art exhibit in New York, which is one of the Art centers of the world, and winning the 2000 Miss Universe Pageant would make way for that goal and open doors to greater opportunities.
4. In today's society, women play prominent roles in business, politics, education, sports, entertainment, and the arts. What are the contributions that pageants make to today's women?
I used to look at beauty pageants as merely superficial and decided that I was not going be a part of any, but eventually my perception changed in such a way that it made me realize that pageants help instill discipline, will, courage, strength, grace, and articulation in a woman. These are characteristics that are very crucial to the complicated roles that women play in today's society. Having been a beauty queen myself, I have become a better person, and I look forward to setting a good example to every aspiring woman.
5. If you become MISS UNIVERSE and have a chance to represent the women of the world, what is the primary goal that you want to accomplish?
I would like to address all the women in the world through art. I am well aware that being Miss Universe entails a lot of privileges, such as expression of oneself and empowerment of women. If I become this year's Miss Universe, I will put on an art exhibit that would applaud women and their strength. That way, I will be able to communicate my message that women have what it takes to be respected and to contribute greatly to society.
6. What question would you like to answer that you have never been asked? What is the answer?
I like to be asked about my views on racism. The Philippines is still a developing country. Many Filipinos work in different parts of the world, including some places where they are discriminated against. What people do for a living should not be considered a basis for who they really are. I don't speak of Filipinos, per se, but for every citizen who is discriminated against. I believe that every person, great or small, should be treated equally as human beings.
7. Please add anything about yourself that you would like us to know that we haven't asked.
If there is such a thing as clairvoyance or clairaudience, I don't know what to call mine. Since I was a kid, I have always had weird encounters with words and phrases that were preconceived thoughts that then happened. For example, I was writing to a friend of mine and as I wrote, "...just always remember that...," the same phrase played on the radio as an excerpt from a song. On another occasion, I was talking to a friend about "2% ... and 98%" when all of a sudden an ad came on about a child who was "2% patient and 98% actor." What kind of coincidence was that?
Bb. Pilipinas Universe 2000 Nina Ricci Alagao after the Miss Universe Pageant
-from ABS-CBN